Betty Lee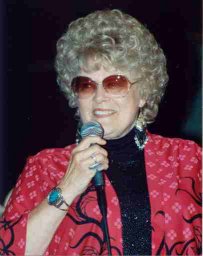 Betty Lee is a name pleasantly familiar to country music fans. Betty has been singing since childhood. She was born in Wisconsin.
She started her professional career on WEBC in Duluth while she was in high school. She then joined the Chuck Carson Show on channel 9 in Minneapolis. Soon she had her own show; "The Country Jamboree with Betty Lee" in Eau Claire, Wisconsin. Then it was on to "The Betty Lee Show" on KLPR-TV in Oklahoma City. She was a regular on "The Big 8 Jamboree" on KTUL-TV in Tulsa, Betty has also appeared on many "Grand Old Oprey" road shows and guest TV appearances around the nation working with many top stars.
Betty is most proud of an award from her fellow singers... the very first award in the Northwest for "Best Female Vocalist of the Year".
In 1992 she joined a television show produced by Joe and Kathy Jensen. The Midwest Country Show is now a weekly stage presentation at a theater in Sandstone, Minnesota.
Her newest venture is a collaboration with the Mittlestandts in song writing and recording. These new original songs are recorded at Dick Driscollís Mystery Ranch Studios.






A Special Song to Betty Lee



I have a country gal
That done me proud
She sang a song I wrote
For a "Midwest Country" crowd

My song - "When the Candle Flickers"
A Nashville hit - may never be
Thats not important
She sang my song for me

She took my simple poem
And arranged what was wrong
She put my words to music
And sang my new song

She did it with Grace
With the "Rose Family" band
From a "Midwest Country" stage
To Sandstone country fans

She sang in perfect time
Every note in its place
She sang from her soul
She put a smile on every face

I have a friend for life
A gal that done me proud
She sang a song I wrote
To a "Midwest Country" crowd

She took my simple poem
And arranged what was wrong
She put my words to music
And sang my new song

She sang from her heart
With the "Rose Family" band
From a "Midwest Country" stage
Pleasing every music fan

My song "When the Candle Flickers"
A Nashville hit - - may never be
Thats not important
She sang my song - for me -




			Author - Sandra F. Mittlestadt
				Stone Ridge Music
				Copyright -1998